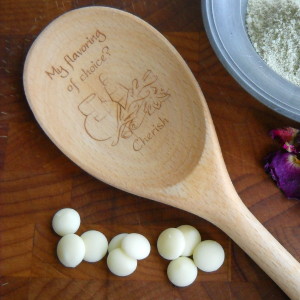 "I am living to nourish you, cherish you, I am pulsing the blood in your veins,
Feel the magic and power of surrender, To life. Uisce Beatha"
This is the chorus to Cloudsong, a number from the show Riverdance. Uisce Beatha is Gaelic for 'water of life" and the song is a tribute to Ireland's relationship with water.
The sharing behind Kitchen Wands is that cooks at the hearth add their energy to what they are creating. When you are present and cherish the process of feeding your friends and family it shows in the final results. It is just a little step further to say adding love adds flavour but I was interested in using a different word. "I am living to nourish you, cherish you" was the source of this wand. I heard it for the first time on a visit to England when Riverdance had taken over the airwaves after the Eurovision Song contest in 1994.

Flavouring in Canada is spelled with a "u", so it took me a little time to decide to go this route. I played with "my spice of choice" and other wordings but the concept works best with flavouring, especially with the bottle in the artwork. So for now, I am going to offer both options. If your preference is with the "u" it is available.
I always try in some way to include the idea of being actively involved. Making the choice and adding an ingredient to a dish is that activity here.
Chervil is an herb. More common in Europe than in North America. I did consider for a bit to write Cherish as Cher…ish since the art work was an herb & spice shelf.
In the end I followed the KISS principle ( keep it simple stupid ).